Testimonials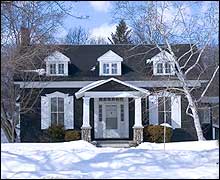 At Verstatile Roofing Ltd., we are committed to customer satisfaction. It is our goal to ensure that you end up with the best possible product and service for your needs.
We know that renovating your home can sometimes be a trying and costly process, that's why we strive to deliver a quality product with little or no intrusion to your daily lives.
Below is just a sample of what some of our satisfied clients have had to say about us.
---
June 5, 2000
We would like to express our gratitude for all your help with our roofing work.
Each time we talked you gave us helpful, friendly advice for which we are very grateful. Your straight-forward, informative and honest manner allowed us to make the right decision on the type of roofing that was best for our home.
Ed Nowicki
Bragg Creek, AB
---
August 27, 2001
We would like to take this opportunity to thank you for the time and care you took to apply the concrete tile on our new home.
We would not hesitate to recommend you and your company to anyone else.
Mr. & Mrs. Audia
Calgary, AB
---
June 25, 2002
From our first meeting we were impressed with your professional approach to your business.
For me personally Trevor, I would like to say it has been a pleasure dealing with you and I take this opportunity to say thank you to you and your crew for a job well done!
Leonard Kornfeld
Calgary, AB
---
July 29, 2004
In my dealings with Trevor at Versatile Roofing, I have found him to be uncharacteristically honest. I say that because having been the general contractor on my house there were a number of empty promises made by other sub trades during the project that were much less than honest. If Trevor made a promise to take care of something - it was done.
He provided us with a realistic and timely start date and was there on time as promised. The same can be said about the completion - he kept his word. The job site was left clean and void of any roofing materials at the time of completion.
Dr. Peter Kiss
Kamploops, B.C.
---
May 1, 2010
Thank you for the great job. Our roof looks amazing... We love it!
Tammy G.
Calgary, AB
---